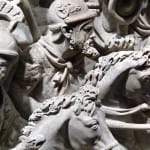 May Day. Visions of country folk dancing around the May Pole. Of labor unionists marching behind raised banners. Of student rebels scuttling across Parisian cobblestones in '68. Of Soviet era Politburoniks lining up above Lenin's Tomb to salute the latest weaponry rolling across Red Square.
And this year, I'm dreaming of a new May Day. It's D-Day! Er, make that P-Day!
On May 1, my new book, Masters of Command: Alexander, Hannibal, Caesar and the Genius of Leadership, will be published by Simon & Schuster.
I'll be kicking it off with a book talk at Cornell's Olin Library (4 p.m., Tuesday, May 1, Room 106). If you're in Ithaca, please come.
If you're in or around New York City, Washington, D.C. or Kansas City, please come to one of the public talks I'll be giving there over the next few months (see this calendar).
And watch this space for news of radio interviews, op-eds, and photos of schmoozing and signings from Coast to Coast.