The Death of Caesar in France
Posted by Barry Strauss on May 9, 2018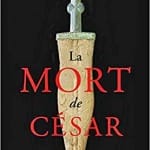 The French translation of The Death of Caesar (La Mort de César, Albin Michel, 2018) has received a warm critical reception. Here is a selection from recent reviews:
"Caesar probably never cried, when addressing Brutus, 'You too, my son?' That's what you learn reading the story of the last moments of the dictator, orchestrated by an American, Barry Strauss, who, for an academic, lacks nothing when it comes to holding you spellbound. … Any event worthy of leaving a mark on history has its big and small causes. Strauss excels at sorting them out." Le Point, March 8, 2018
"He [Strauss] has constructed it like the script of a tv series, with detailed portraits of personalities, a luminous exposé of the political stakes, a scrupulous narration of the preparation and the execution of the plot and then of the fate of the conspirators. That's not a surprise. Didn't the author decide to study history after having seen Kubrick's Spartacus, with Kirk Douglas? The result is there. Strauss knows how to make Roman history – too often severe — waltz with grace. His French colleagues should take a lesson from that: to write for readers rather than their peers." Le Figaro Magazine, March 16, 2018
"That's the way good history books are, lively as novels, precise as police inquiries, in the image of The Death of Caesar by Barry Strauss, historian of antiquity, professor at Cornell University. Three hundred pages of poignant and furious saga, based on the sources that sleep in great libraries and that he awakens with talent and erudition. …. Barry Strauss tells all that with the mastery of a historian and a novelist." Libération, 20 March 2018.
"This work of history reads like a fast-paced thriller. The stormy atmosphere of civil war mixed with the bubbling-up of passions (where the role of women is decisive, whether wives, mistresses or mothers) is described with such a cinematographic sense that you have the impression of diving into a collective tragedy – and of seeing a page of history written with fresh ink, a page where Caesar, Brutus, Mark Antony and Octavian go side-by-side, along with Cato, Cicero, Cleopatra…." Le Figaro littéraire, March 29, 2018
"…a perfect screenplay, [the assassination] has inspired playwrights and some of the greatest filmmakers and novelists. Historians too adore the death of Caesar. … It takes the skill of a story-teller and the toolkit of a scholar to stay within the bounds of historical rigor without pouring over into a novel. Professor at Cornell University, Barry Strauss excels in this difficult art. He even manages to introduce suspense although the outcome is known to all." Le Figaro histoire, April 1, 2018
"The Assassination of Julius Caesar – Barry Strauss gives it a scholarly account that holds you spellbound like a thriller.
"The assassination of Julius Caesar by Roman senators, is without doubt, one of the best known in history…. Has it ever been told better than today by Barry Strauss, professor at Cornell University? I doubt it."
La Libre Belgique, April 16, 2018
"The American Barry Strauss offers a gripping story of the Death of the Roman Dictator in 44 BC
Death of Caesar, Version Thriller
A Veritable Detective Story that you Devour Like a Novel
"With this material overworked a thousand times it's not easy to surprise the reader and to hook him. That, however, is what the American historian Barry Strauss succeeds at masterfully, and he treats the tragedy like a police inquest. He excels at describing people and places in a few words, and in a sentence or two he places the reader next to Caesar and his murderers."
"Inspector Strauss cross-examines the sources, sizes up the characters, weighs motives, and makes pressure mount like in a true detective novel."
Sud Ouest (Bordeaux), third largest French regional daily, April 29, 2018
"Julius Caesar …was defeated by a cleverly woven plot. A gripping book by Barry Strauss, professor at Cornell University, patiently unravels the threads. … A masterful work where the historian, very close to his sources, makes use of, with panache, a talent that makes the difference between a laborer and a great creator: intuition."
Les Affiches de Normandie, [a weekly published in
Rouen] April 25, 2018