"I am my Beloved's and my Beloved is mine."
Posted by Barry Strauss on September 4, 2016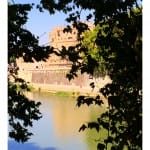 I arrived in Rome on a sunny and broiling hot late summer Sunday. Sunday is everybody's favorite day in Rome because most Romans have the day off work. The city quiets down and in the summer much of it empties out. You hear the old-fashioned greeting, Buona domenica, "Good Sunday."
Today was a holy day for two faiths in Rome. Pope Francis, leader of the world's 1.2 billion Catholics, declared Mother Theresa a saint at mass in St. Peter's Square, before a crowd of more than 100,000 worshippers. The Pope spoke of the extraordinary work with the poor and dying done by Mother Theresa, winner of the 1979 Nobel Peace Prize.
By coincidence, today also marked the start of the month of Elul, the beginning of the holiest time of year for Jews. Some consider Elul an acronym for Ani l'dodi v'l'dodi li, the Hebrew words that mean "I am my Beloved's and my Beloved is mine." It's a quote from the Song of Songs, where it is taken to refer to the love between God and the Jewish people. How appropriate to speak of love on a day honoring a women to devoting her life to the helpless.
Rome's history has never been just about love, alas. I thought about that when I indulged in one of the city's characteristic pleasures: eating. A friend, a Roman food expert in New York, sent me to the hot pizzeria du jour, Emma's. I was worried about getting in, since it is highly popular on Sunday night when it is open while many restaurants are closed. Worse still, I was dining alone. My friend offered the excellent advice to arrive at the unfashionable hour of 7:30-7:45. I did, and the waters parted: not only did they give me a table but they gave me a table outside.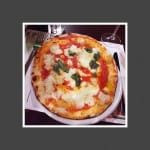 As I sample fried zucchini flowers with anchovies and exquisite supplì (fried rice balls) I saw at least a dozen people without reservations turned away. And then came the pizza. The fresh ingredients of the dough and the bufala mozzarella cheese from south of Salerno made it special but what really made the pizza stand out was the Corbarino tomatoes. These sweet, luscious jewels come from the foothills of Monti Lattari above Sorrento, and you can hear the sirens sing in every bite.
So, what's not to love? Only this: Emma's is located above the ruins of the Portico of Pompey, perhaps a hundred yards from the spot where Julius Caesar was assassinated on the Ides of March. Unless you happen to be a historian of that assassination you surely wouldn't think of the blood shed that day with every bite of a gorgeous red tomato. Unfortunately, I am just such a historian. So, on this lovely day I remembered death.
No one ever said Rome is just about holidays.
Barry Strauss, author of the acclaimed book The Death of Caesar, is in Italy researching and writing a book on Roman emperors.