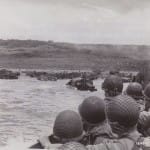 I was five years old in 1959 when Cornelius Ryan's The Longest Day appeared and it was probably another 20 years before I picked up a copy but I was already hooked. The 1962 movie – or, rather, the re-release several years later – made me a fan. It was, in its way, my Game of Thrones: an epic and a myth with larger-than-life characters. The only difference, I suppose, is that The Longest Day is based on history: more about that in a moment.
Ryan, who was one of the film's screenwriters, left his trademark on the production. It's a great story, focused on people, but it uses things to bring their character to life. What viewer of the film can ever forget the sight of the female resistance fighter's bicycle, for instance, or the German officer's boots on the wrong feet or the sound of the clickers and the bolt-action rifle – or, for that matter, of Lord Lovat's piper? Along with stars John Wayne, Robert Mitchum and Henry Fonda, those are what we remember. The film's historical analysis leaves a lesser mark, but Hollywood is no historian and Ryan never claimed to be.
He was a war correspondent and a storyteller. Born and raised in Dublin, he covered World War Two for London's Daily Telegraph and American news magazines. He rode along on American bomber missions and with Patton's Third Army as it advanced across Europe and then transferred to the Pacific Theater. In 1947 he moved to the US and four years later became an American citizen. He died of cancer at the relatively young age of 54 in 1974. But first, as Professor Michael Shapiro of Columbia Journalism School recounts in a wonderful piece, he helped found the art of literary non-fiction, at least in its late twentieth-century version. (Xenophon and Caesar among others had laid an earlier cornerstone or two.)
Shapiro highlights the masterful way in which Ryan introduces his first main character, German General Erwin Rommel, commander of his country's forces on France's Atlantic Coast. Ryan describes Rommel in his headquarters, an aristocrat's requisitioned chateau, but Ryan takes the luxurious details of the room and turns them on his head. Instead of demonstrating Rommel's pretentiousness they do the opposite and illustrate a man who was no-nonsense and shrewd:
In the ground-floor room he used as an office, Rommel was alone. He sat behind a massive Renaissance desk, working by the light of a single desk lamp. The room was large and high-ceilinged. Along one wall stretched a faded Gobelin tapestry. On another the haughty face of Duke François de La Rochefoucauld -- a seventeenth-century writer of maxims and an ancestor of the present Duke -- looked down out of a heavy gold frame. There were a few chairs casually placed on the highly polished parquet floor and thick draperies at the windows, but little else.
In particular, there was nothing of Rommel in this room but himself. There were no photographs of his wife, Lucie-Maria, or his fifteen-year-old son, Manfred. There were no mementos of his great victories in the North African deserts in the early days of the war -- not even the garish field marshal's baton which Hitler had so exuberantly bestowed upon him in 1942. (Only once had Rommel carried the eighteen-inch, three-pound gold baton with its red velvet coveting studded with gold eagles and black swastikas: that was the day he got it.) There wasn't even a map showing the dispositions of his troops. The legendary "Desert Fox" remained as elusive and shadowy as ever; he could have walked out of that room without leaving a trace.
Rommel, as Ryan shows him, was a pragmatist but not a democrat. He did not feel uncomfortable at the desk of a duke in the requisitioned chateau of one of the greatest wits in the French language. The Allied commander, American General Dwight David Eisenhower had a very different style from the German Field Marshal. Yet when Ryan introduces Eisenhower, a dozen pages later, Ryan does not have to tell us that. He shows it:
In a rain-lashed wood two miles from the naval head-quarters at Southwick House, the American who had to make that great decision wrestled with the problem and tried to relax in his sparsely furnished three-and-a-half-ton trailer. Although he could have moved into more comfortable quarters at the big, sprawling Southwick House, Eisenhower had decided against it. He wanted to be as close as possible to the ports where his troops were loading. Several days before he had ordered a small compact battle headquarters set up -- a few tents for his immediate staff and several trailers, among them his own, which he had long ago named "my circus wagon."
Eisenhower's trailer, a long, low caravan somewhat resembling a moving van, had three small compartments serving as bedroom, living room and study. Besides these, neatly fitted into the trailer's length was a tiny galley, a miniature switchboard, a chemical toilet and, at one end, a glass-enclosed observation deck. But the Supreme Commander was rarely around long enough to make full use of the trailer. He hardly ever used the living room or the study; when staff conferences were called he generally held them in a tent next to the trailer. Only his bedroom had a "lived-in" look. It was definitely his: There was a large pile of Western paperbacks on the table near his bunk, and here, too, were the only pictures -- photographs of his wife, Mamie, and his twenty-one-year-old son, John, in the uniform of a West Point cadet.
From this trailer Eisenhower commanded almost three million Allied troops.
These details pack a visual and emotional punch. Ryan was a mythmaker, telling a tale for an age of heroes. When The Longest Day appeared in 1959, Eisenhower, the victor of D-Day, was President and the American century was at its zenith. Around ten years later, when I first saw the film, Vietnam and the furies of the Sixties were upon us.
Yet furies can be tamed by words. We need myths to live by and D-Day is one of them, as deathless as Troy or Agincourt. When he called it the longest day, Ryan was a prophet.
Barry Strauss is the author of The Death of Caesar: The Story of History's Most Famous Assassination.