[vc_row][vc_column width="1/1"][text_output]I take the subject of citizen-soldiers personally. Both my father and my grandfather saw combat as infantrymen in the U. S. Army in the world wars. I was old enough to live through Vietnam but young enough not to have to face the draft. But the citizen-soldier is a figure that concerns us all. Not only might he or she be in harm's way nowadays as a National Guardsman in Iraq, but the citizen-soldier represents an ancient way of life.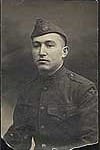 A citizen-soldier is an amateur, not a military professional. Whether a volunteer or draftee, the citizen-soldier serves for a short period and then returns to civilian life. In the meantime, he surrenders himself to his country, a sacrifice that breathes life into citizenship and nobility into the individual. For centuries, Europe and America, each in its own way, followed that ideal. Hundreds of millions of men were shaped by it – and women too who faced the loss of their menfolk. Now, suddenly, within a generation, the ideal is gone, a distant memory for young Americans today.
No more draft: that is the good news. No more citizenship? That is the unsettling question. Since the end of the draft a quarter century ago, we baby-boomers have cultivated our garden and with gusto: prosperity is all around. But ours is too easy an assumption that by doing well we will also do good, that the pursuit of private profit will inevitably produce public benefits.
Or does that too hastily dismiss the blessings of peace? Talk about the good war and the greatest generation stirs the armchair soldier's heart, but the veteran might suspect that it sentimentalizes sacrifice. As an old man of wit and vinegar, my late father always preferred to forget war rather than glorify it. And he scoffed at any notion of nobility in his service, although that included eight months in combat. •
I dedicate these thoughts on the citizen-soldier to you, dad.
______
Barry Strauss, "Citizen-Soldier", Parameters. US Army War College Quarterly, vol. XXXIII, no. 2 (Summer 2003): 66-77.
________
Aaron Strauss, PFC, US Army 1943-1945
Meyer Strauss, Pvt, US Army 1917-1919[/text_output][/vc_column][/vc_row]